Charter Members & Past Presidents
Charter Members

Twelve (12) members of our community vision came to fruition on May 24, 1987, at Midway Congregational Church, Midway, Georgia. Through the guidance of Dr. Louise A. Rice, our 23rd National President, and Past Southern Regional Director, Hinesville Alumnae Chapter of Delta Sigma Theta Sorority, Incorporated was chartered. We will always honor and give reverence to these amazing "TrailBlazers" of our community.
Sallie Richardson, Charter President


Sarah Baker Vicki Brown

Denise Cobb

Shirley Frasier


Annie Givens Consibrina Jackson Donna Jones

Betty McCray




Gloria Mitchell

Sarah Stevens

Annie Stewart
Charter Members (Left to Right) Betty McCray, Sarah Baker, Sallie W. Richardson (Charter Chapter President), Shirley Frasier and Sarah C. Stevens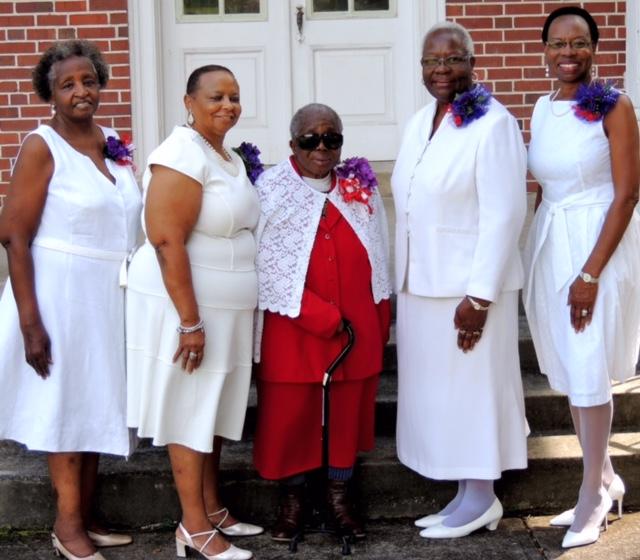 Presidents
During Hinesville Alumnae Chapter existence, the Chapter has focused on improving the quality of life within our service areas by awarding scholarships, conducting and participating in various community events dedicated to improving the quality of life of citizens through Physical & Mental Health, Social Action Advocacy and engaging in humanitarian projects. Hinesville Alumnae Chapter has made significant accomplishments through the leadership of each of our presidents.
*Sallie W. Richardson – Charter President 1987-1989
Yvonne L. Woods 1989-1992
Sarah C. Stevens 1992-1996
Sarah P. Baker 1996-2000
Virie Walton 2000-2004
*Deloris P. Gaulden 2004 -2006
Rose S. Mullice 2006 -2010
*Yovancha Lewis-Brown 2010 - 2012
Mary E. Brock 2012-2014

Petula Y. Gomillion 2014-2018
Debra Valrie Covington
2018-Present
Hinesville Alumnae Chapter celebrates 31 years of public service in the Bryan, Liberty, Long and Wayne Counties. Although we are only a small segment of Delta Sigma Theta Sorority, Inc., Hinesville Alumnae Chapter has proven small chapters can and will handle the business of Delta Sigma Theta Sorority, Incorporated! We are an award-winning chapter on the Regional and National Level.
*Denotes Deceased

(Left to Right) Shirley Frasier(Charter Member), Petula Y. Gomillion, Virie Walton, Sarah C. Stevens, Sallie W. Richardson, Yvonne L. Woods(Past Presidents)